Release .. Version Weather34 Aurora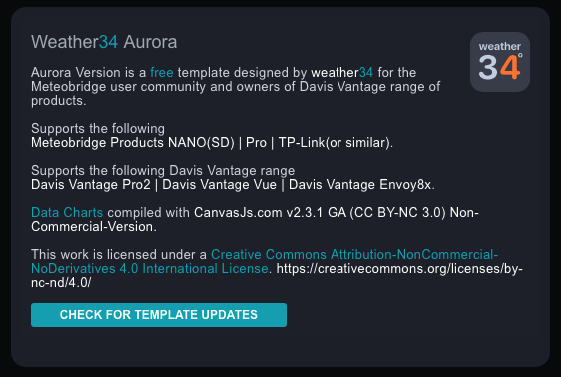 If you would like to test or use this version please read below and digest what is different from previous release.
1.
Why Aurora ?
introduction of color charts based on value , it resembles at times a color array of the Aurora Borealis
2.
Language Support ?
No only supports English , there are no language supported code within the template to use switching languages or display other than english.The design is based on English word phrases and lengths.
3.
IFTTT
support for interaction of notifications to smart devices where IFTTT is installed…dropped idea
4.
Hardware Support?
Supports Meteobridge devices NANO(sd) , Meteobridge Pro , Meteobridge Software where installed on TPLINK or similar supported devices
5.
Weather Station Hardware Support?
Only supports Davis Vantage product range i.e Davis Vantage Pro2, Davis Vantage Vue, Envoy8X
Does not fully support Ecowitt,Ambient,Weatherflow,Acuurite,Oregon type hardware purely limited and luck..
This sounds harsh but simply weather34 does not want to get sucked into something which ends up becoming
unsustainable to maintain and a chore to keep it smoothly developed with fresh ideas ..
6.
Request Download Only ?
No freely available..
7.
Can I use chart history data from previous version ?
Yes , backup the existing weather34charts folder from previous version this contains all of your history chart data .
Critical files/folders to keep if you want to use existing data from previous version !
2020.csv is the file that stores all your current 2020 data in 2021 it automatically creates 2021.csv file at 23:59 January 1st
2020 folder contains current day and current month chart files
Once installed this version Aurora simply upload your backed up files/folder and overwrite existing blank new installation files/folder .
8.
Can I use an update file to upgrade existing version to new version Aurora ?
Yes but must be aware languages support is only English if you using previous in another language other than English it won't
Work in your native language it will simply display everything in English !! So please beware and there 100% no planned
Support for languages in future updates.
9.
Air Quality support?
Yes same as previous version but with added support for daily hi/lo monthly hi/lo year hi/lo in almanac screens and additional chart screens
This will be implemented in December 2020 with new weather34 API structure (see below)
10.
Weather34 API will it change ?
Yes to support additional Air Quality data mentioned above .Every effort will be made not to break previous version of template
hence time and patience will be taken to scrutinize the restructured weather34 API before requesting Boris at meteobridge to change the API structure.
11.
Is it really much different ?
On first appearance no not really main screen looks identical but charts will be different in appearance , a lot of effort to balance color saturation to make it easy on the eye and not use bold appearance, the code is 20% smaller overall. Less time required to develop and maintain due to removal of language support. Doesnt support anything other than Davis Vantage product range which creates less support time and smoother platform to develop on.The setup screen has some newer options and all non required options from previous version have been removed .
CSS files is restructured to only cater for this version with a slight reduction in file size and wider use of HSLA color coding variables for a smoother color balance.
12.
So Do I need this ?
If you understand all above then the choice is simply yours but it is important to understand there are limitations and benefits either may not meet your requirements so therefore I strongly recommend to research other templates within the weather community or continue to use what you have now .
13.
Will you outsource previous version?
No previous experience of doing this was unsatisfactory and provided absolute no benefit to anyone or weather34 just created mass confusion, many unwanted support emails (1000s literally overtime) , created unwarranted socially inept remarks and personal insults !. Lesson learnt and never again will I offer out any work I have done .
Outsourced idea was done for the benefit of other non meteobridge software not any weather34 benefit .
*Updated outsourced version for Weather Display agreed with two developers/users Beta release expected to be available around Mid May-June 2021.
14.
Availability ?
As of 1st week of November downloads will be available on request same as previous version.Previous version will be freely available without request in December .
14.
What does it look like?
See below….